Mira este video explicativo
Una inversión que vale la pena
5 tipos de tés de elaboración propia
Desintoxicar el cuerpo

Eliminar Líquido

Aumentar Metabolisto
Bajar de Peso

Eliminar líquido

Eliminación y absorción de grasas
Regular el Azucar

Disminuir la Ansiedad

Potenciar efectos del 1B, 1R y Detox
Mejorar la Digestión

Disminuir absorcion de comidas pesadas
3 Videos tutoriales de Cristina
Se entregará acceso a verlos una vez que se compra el Pack
Asistencia Nutricional Exclusiva
Durante todo el programa, tendrás una asistente nutricional dedicada exclusivamente a resolver todas tus dudas y acompañarte durante todo el proceso.
Recetario bajo en Carbohidratos
Documento en PDF de recetas que puedes aplicar durante los 46 días y así lograr tu meta de bajar de peso.
(Se podrá descargar luego de adquirir el pack)
Una vez se compre el Pack se enviará un acceso directo a todo el material
Resultados en la vida real
​Las cápsulas de Cochayuyo son un excelente complemento para el Pack de Té. Te ayudará a tener menos hambre, bajar la ansiedad con grandes beneficios para tu salud.

Agrégalas a la compra de tu pack.
Estoy seguro y quiero comenzar
Compra tu pack de té en línea y recibe el pedido en la comodidad de tu casa, en forma facil y sencilla.
Quiero comprar pero tengo dudas
Preguntas Frecuentes
What is Speciality Coffee?
---
The indigenous forest coffee grows wild in the mountains of the Sierra, it is beyond organic, and more than fair trade, making a pact with nature nurturing with cultural and spiritual rituals. They make payments through offers to the Earth, working with nature following the natural cycles of the moon, and every part of biodiversity, as the Iku community says: "Special agriculture conceived to respect nature and our organism, it is the greenest way we can be: living and working according to the life cycles of nature and the Law of Origin." - Amas la Sierra. Supporting ancestral agriculture and giving back trees for a healthy soil, increasing and maintaining a balance with biodiversity, sowing food forests systems for the families, and creating an economic fund relief for urgent matters with every tree planted. The wide definition of speciality coffee is coffee scoring 80 points or above on the 100-point Coffee Review scale. Coffee scoring from: ​ 90-100 is Outstanding 85-89.99 is Excellent 80-84.99 is Very Good
---
What type of Coffee is?
---
GAIRA
SCORE: 85 points
Hundreds of Arhuaco families united in one cooperative.
Producer: Asoarhuacos
(In stock now!)

TAYRONA:
SCORE: 86 points Single Origin / Sogrome
60 Arhuaco families united in one company.
Producer: Amas La Sierra
(Pre-sale from July 2020, delivery in October 2020)

Specialty roasters are able to unlock and bring out the unique flavors that reflect the coffee's origin. Soil type, humidity, plant health, and a variety of other variables determine a coffee's flavor. The coffee reaches an excellent position on the international scale of coffee with notes of chocolate, fruits, nuts, an excellent body with low acidity. The regenerative community pre-financed agriculture approach and the story behind the coffee with the indigenous communities that grow it makes our coffee unique.
---
Where do you ship?
---
[Europe]

Andorra, Austria, Belgium, Belarus, Bosnia & Herzegovina, Bulgaria, Croatia, Czech Republic, Denmark, Finland, France, Germany, Gibraltar, Greece, Guernsey, Hungary, Iceland, Ireland, Italy, Jersey, Latvia, Liechtenstein, Lithuania, Luxembourg, Malta, Monaco, Netherlands, Norway, Poland, Portugal, Romania, San Marino, Serbia, Slovakia, Slovenia, Spain, Sweden, Switzerland, Ukraine, United Kingdom

[Asia & Pacific]

Australia, Bangladesh, China, Cyprus, Hong Kong, India, Indonesia, Iran, Israel, Japan, Jordan, Kuwait, Lebanon, Malaysia, New Zealand, Pakistan, Philippines, Qatar, Russia, Singapore, Saudi Arabia, South Korea, Taiwan, Thailand, Turkey, United Arab Emirates, Vietnam

[America]
Argentina, Brazil, Canada, Chile, Colombia, Mexico, United States

[Africa]
Egypt, Morocco, Mauritius, South Africa

--

[AUSTRIA]
€4,90 delivery with tracking2-3 working days ETA

[Europe]
€6 delivery without tracking3-4 working days ETA

[USA & CANADA]
€9 delivery without tracking1-2 weeks ETA

[Other Countries]
€9 delivery without tracking1-2 weeks ETA
---
Transparency and how is the money distributed?
---
Greeen cost for the coffee community:
6€ per Kilo + 25.000 trees.
Transportation Colombia-Europe: 2,30€ per kilo
Financing: 0,20€ per Kilo Production cost: Roast, Packing, Development: 15,50€ per Kilo
Community: 0.96€
Delievery: 3,90€ - 9,40€ per package.
Transactions: 1,20€ per transaction aprox.
Cup Score: 86-87
Lot Size: 840kg (2020)
1 tone (2021) For tree planting projects from 2021: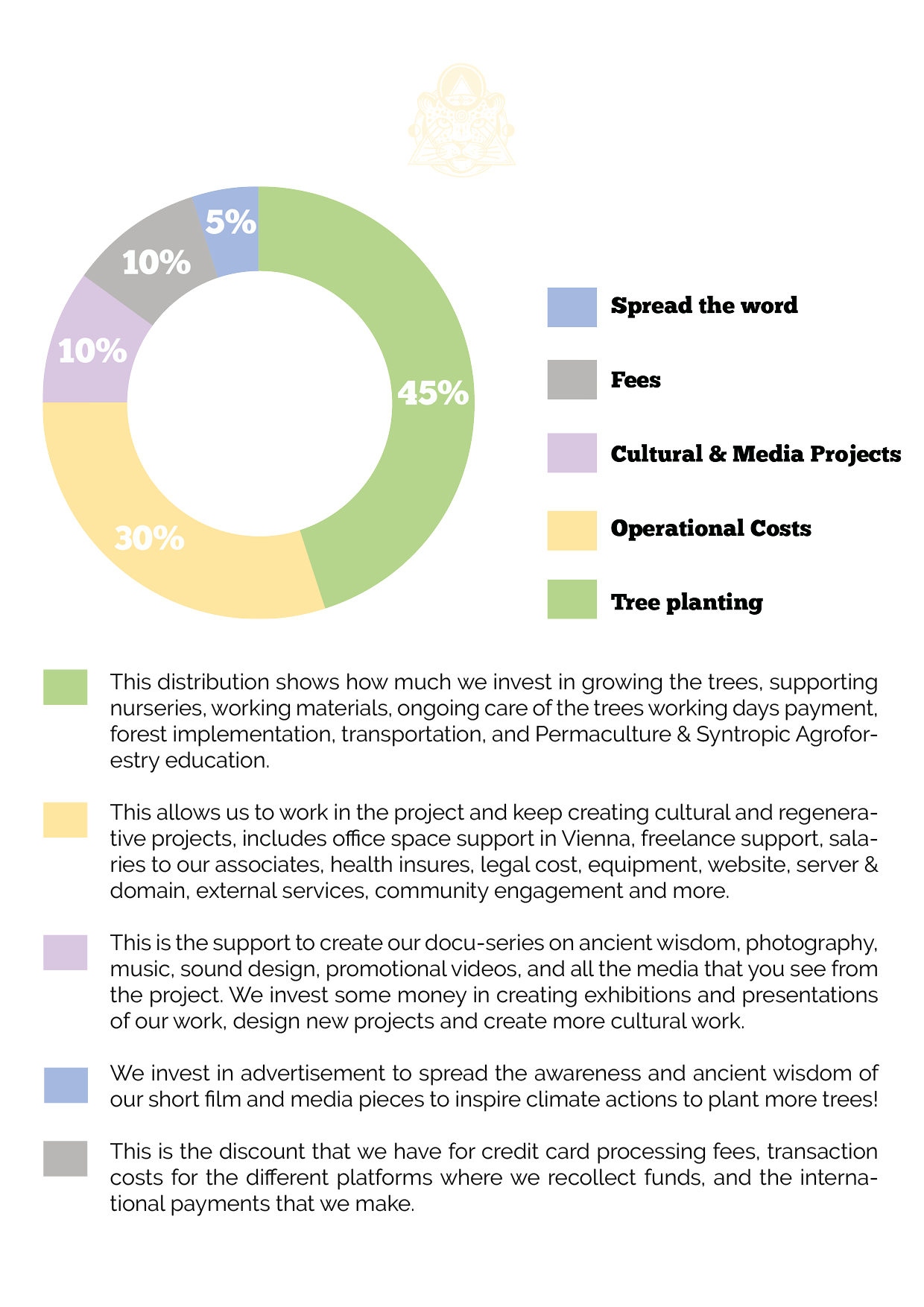 ---
---